#PassionInProfession: How a budding manicurist juggles work and her love for nail art
Written by Jovan Lee
By day, she's a hardworking admin assistant who pays close attention to detail in her daily duties. But by night, she transforms into a zesty nail academy student who channels the same meticulous attitude into her nail art. Meet Jia Xuan, a 20-year-old employee right here at FastJobs with a flair and passion for manicuring and beauty.
How it all started
With her sights set on the beauty line since her secondary school days, Jia Xuan has always found manicures to be an impressive expression of art. The first time she saw her own nails painted in full color, she found it incredibly satisfying.
A simple yet aesthetically pleasing nail polish job done by Jia Xuan on her own nails
Her experience playing with nail polish intrigued her and she dove deeper into the world of nail art and manicures. Admiring the work of others, Jia Xuan views manicures as an art form that not only takes tremendous talent but also hours and hours of practice.
Although she had been eyeing a career in the beauty industry from a young age, she explained that her mother encouraged her to take up business studies instead, reasoning that nail art was something that she could explore outside of her curriculum. While Jia Xuan's initial reaction to that advice was not positive, in hindsight, she doesn't regret her decision to heed her mother's advice.
"Studying Business Services can help me in the beauty industry as I was able to learn about customer service during my time in school," Jia Xuan remarked.
Journey to success
Taking a step towards making her passion her profession, Jia Xuan has been taking classes at a nail academy here in Singapore called Peony Nails, where she learns all that she needs to know about nail art. Striving hard to earn her certification as a nail professional, she will have to complete 185 hours of training to fulfill her course's requirements to graduate. Enrolled in July this year, she aims to graduate with her certification by year's end before searching for work at a nail salon.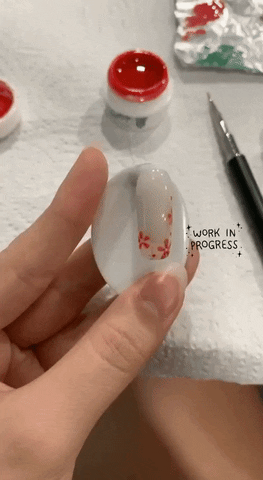 A work of art with a nail as the canvas done by Jia Xuan
But her ambitions don't stop there. She plans to gain valuable experience in the nail industry as a salon manicurist, using the time spent there to build a reputable customer base so that she can eventually start up her very own nail business. With the ultimate goal of opening up her own shop, Jia Xuan appears to have her grand plan laid out and in motion.
Finding inspiration and powering through struggle
The path of the manicurist may not be for everyone, but for Jia Xuan, the long hours that she puts into perfecting her craft is worth it whenever she nails a particularly challenging design. Acknowledging that engaging her artistic side can be a challenge at times, Jia Xuan explains that she usually browses Instagram for nail-related content to get inspiration for new and better designs.
Pink-themed gel nails done on prosthetic practice nails by Jia Xuan
"It can be really exhausting at times, and with the long hours we spend at classes, it can be tough to find the motivation to come up with new ideas," Jia Xuan elaborates on some of the difficulties she faces as a nail academy student, "but at the end of the day, it's worthwhile when I get to see the freshly painted nails and be proud of what I've accomplished."
Commitment plays a central role in one's journey to becoming a professional in any field, and even more so for a manicurist. A single manicure session can take up to 2 hours on average, and once you start on a project, you always have to finish it (or have your clients left walking around with half-done nails). But Jia Xuan is no stranger to commitment. She's already logged in nearly 150 hours of class time and is determined to finish what she started to attain her certificate.
Nailing the look
Like any other form of art, nail art is always evolving, with new designs, styles, and methods being invented and becoming in trend. As a manicurist, it is important to keep up with the latest trends that are circulating around the beauty industry and adapt these styles into your art. There are various workshops that Jia Xuan's nail school conducts that highlight how different art styles can be incorporated into manicures such as watercolor and 3D gel.
The tools that go into perfecting a set of beautiful nails
Apart from participating in workshops to improve your manicure skills, Jia Xuan encourages aspiring nail artists like herself to practice constantly. Paint your own nails, practice on fake nails, and most importantly, be creative.
Don't let your dreams be dreams
And once Jia Xuan has completed her course, how will she go about looking for work as a manicurist? Aspiring beauticians out there - take note. Her response, a definitely unbiased one, is to look for one right here on FastJobs. You can also apply for manicurist job positions on the app at various established nail salons out there, and if you're not sure which salon job to apply to, a quick Google search should do the trick.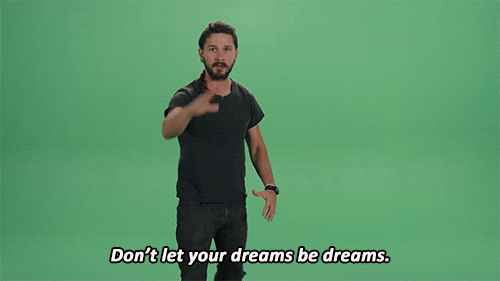 For Jia Xuan, making her passion a full-time job is a dream she is working on turning into a reality. She's already got family and friends booking her for future manicures and nail treatments once she's graduated. If you have an interest in nail art or other forms of beauty treatment, you could transform that interest into a stable income. All you need to do is take the first step. Download the FastJobs app and start looking for beautician jobs in Singapore today!
---